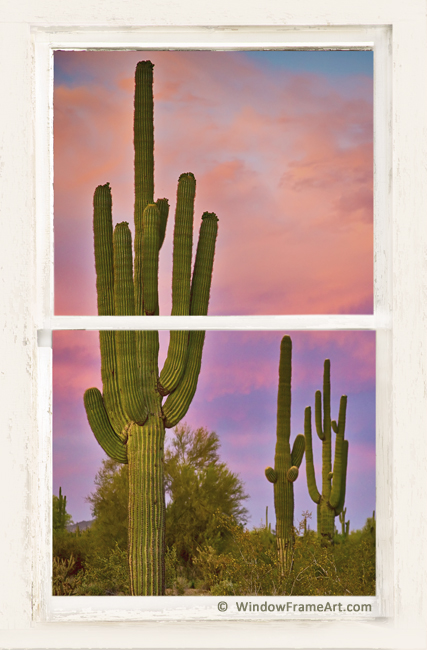 A colorful southwest sunset over the lush Sonoran desert with giant saguaro cactus and a view through a classic white distressed rustic picture window.  Your very own private window view into the beautiful southwest.
Create a fine art photography optical illusion to your decor of the beautiful colorful southwest desert with a view through an old distressed rustic barn window .
Bring nature indoors, now you can add a window with a view to any room in your home or office with our picture window frame nature landscape art prints. The IMAGE is the FRAME, how cool is that!
Now you can have a window with a view in any room with our picture window frame fine art nature landscape  photography available as a poster prints and canvas wraps.  (C) All Rights Reserved.
This is an incredible way to decorate your window less office walls, home walls, cafe, restaurant, boardroom, waiting room, trade booth, corporation or almost any commercial space.
Click here for custom prints available in all sizes of Southwest Desert Colorful Distressed Window Art View
*PLEASE NOTE : The Window Frame is part of the image.
**PLEASE NOTE, WATERMARKS WILL NOT BE ON THE PURCHASE PRINTS*